Posted By Kelly Orange on November 23, 2010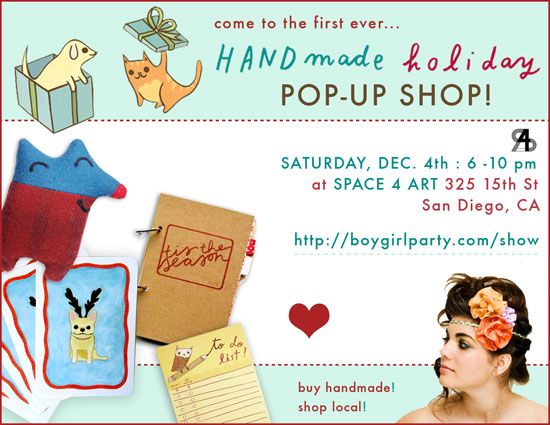 Need some great gift ideas?  Why not handmade? Something special, unique, perfect… Well, I'm sellin' my wares alongside an assortment of other San Diego creative peoples – super excited to bust out some fun stuff for this… http://boygirlparty.com/show/
The Handmade Holiday Pop Up Shop will take place on December 4, 2010 from 6-10pm at Space 4 Art's classroom, located at 325 15th Street, San Diego, CA 92101.
Organized by San Diego crafters Susie Ghahremani of boygirlparty and Dain Bornstein of dainty* handcrafted, the Handmade Holiday Pop Up Shop is a craft market with a bigger goal; to foster a sense of community amongst San Diego crafters and artists.
Featuring non-traditional crafts and gifts created by artists and designers living in San Diego, The Handmade Holiday Pop Up Shop will bring together a variety of locally made artwork, fashions, accessories & gifts while providing an event for artists to meet and grow our craft community.
The pop-up shop includes items as diverse as handmade bath and body goods by Skinfolk, the quirky French-bulldog inspired artwork of Henri Hopper, reclaimed/recycled leather accessories by Domestic Nest, delicately handcrafted headbands by dainty*handcrafted, and animal-adorned stationery and t-shirts by boygirlparty. For a preview of vendors, please visit http://boygirlparty.com/show/
The first Handmade Holiday Pop Up Shop is taking place in conjunction with Space 4 Art's massive Dec. 4th celebration: Artists Judit Hersko and Lea Dennis will have a reception beginning at 6pm for their most recent artwork. There will be a reception and live performances by John Meeks, Cascavell and Rio Peligroso. Guests will also have an opportunity to wander the maze of more than 35 open artist studios at Space 4 Art.