Posted By Kelly Orange on August 8, 2009

It's pretty cool when you find yourself on a random blog…interesting things people do on the internets. Google Alerts are a favorite of mine these days. This popped up a couple days ago from a website called Studio Snapshot.
Studio snapshot shows how people make a space to create. From corner studios, shared spaces and porches, to garages, warehouses and old buses. Featuring artists, writers, musicians and all sort of people with a studio.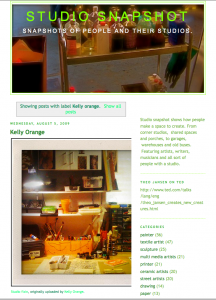 The images are all pulled from my Flickr photostream, I'm sure through a keyword search, but I'm so unorganized with my tags that there had to have been some manual selection involved. I'm curious as to how they came across that image that spurred the thought of sharing it with others. What is it they like? So many questions. I am often looking for photos of other studios for ideas. Love that there's someone else that wanted to show mine. Here's a link to some of the images posted, for some reason all of them are not tagged with my name – they seem to suffer from the same tagging ailment as I do. Oh, Artists.
In other news, I probably deserve a punch in the face just as much as this guy did: Sorry.